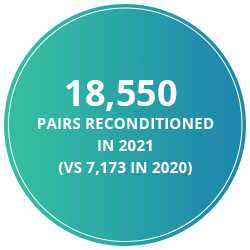 OFFERING MORE SUSTAINABLE FASHION
Our goal is to meet customers' expectations as closely as possible, to offer them the choice of a more sustainable fashion and to contribute to their well-being. Thanks to the development of the service economy and the growing popularity of second-hand clothing, our brands are constantly trying out new services.
Our shoe makeover service restores the appearance of shoes and offers care tips and recommendations.
Reconditioning, which takes place in our plant in Montjean-sur-Loire, extends their life expectancy
Second-hand gives our products a second life
Our rental service promotes a different consumer approach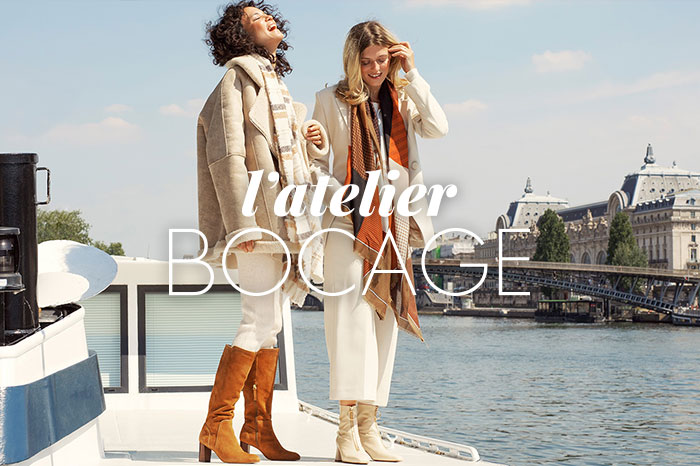 L'ATELIER BOCAGE, THE FIRST SHOE RENTAL SERVICE
Thanks to a subscription system, Bocage customers have the opportunity to change their shoes every two months. The customer chooses a pair of shoes in store or on the website and two months later brings them back to select a new pair. The rented shoes rented are reconditioned in our La Manufacture plant. With this new service, Bocage focuses on use rather than possession by encouraging the reuse of its products.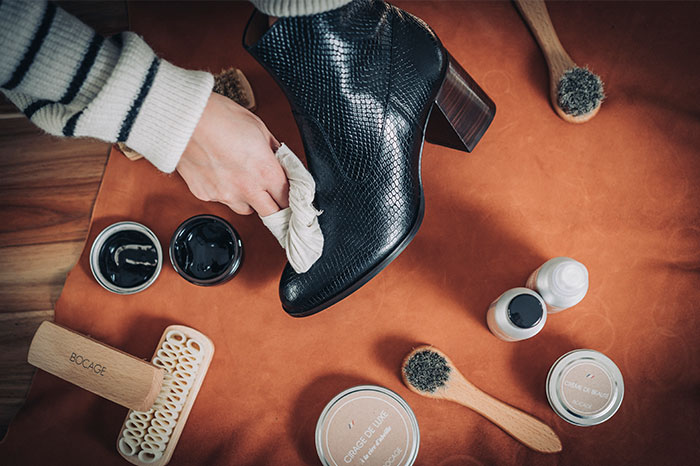 BOCAGE LAUNCHES A SHOE MAKEOVER SERVICE
As part of the circular actions implemented by the brand over the last 2 years, Bocage is launching a new in-store service to help its customers to consume better, by extending the life of their shoes. Trained by Les Compagnons du Devoir, our sales consultants are available to give shoes of any brand a new lease of life. The shoe makeover service includes: cleaning, reshaping and crease reduction, leather care and polish, hygiene treatment for €6.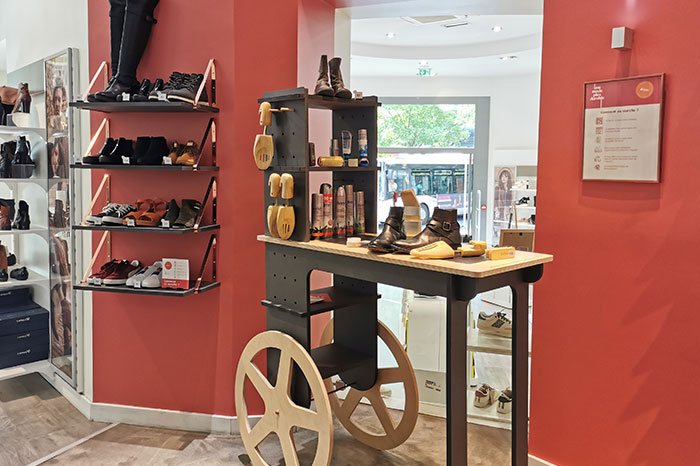 SECOND-HAND AT THE ERAM GROUP
Since September 2020, 36 Eram stores and 15 Bocage stores have been experimenting with the sale of second-hand shoes. The customer drops off the shoes they wish to dispose of and sets a selling price with the sales advisor, using a price list as a guide. After the shoes have been reconditioned (cleaned, reshaped, and received a care and hygiene treatment), the pairs are made available for sale in the second-hand corner.
With Seconde Chance, Les Tropéziennes par M.Belarbi is committed to giving a new life to pairs of new shoes with cosmetic micro-defects (alteration of the material, the insole, the stitching or the embellishments). These products meet the quality requirements in terms of use and comfort, but until now have not made it as far as customers' wardrobes!
There is now a second-hand corner in all Faguo stores. Customers can bring in clothes from the brand that they no longer wear. If they are in good conditions, the stores will accept them in return for a voucher (up to 20% of the garment's initial value).Clothes are then sold in the second-hand corner, where customers can also find prototypes of old collections.If they are too worn out for resale, they are put in the Faguo recycling bins.